Shipping Policy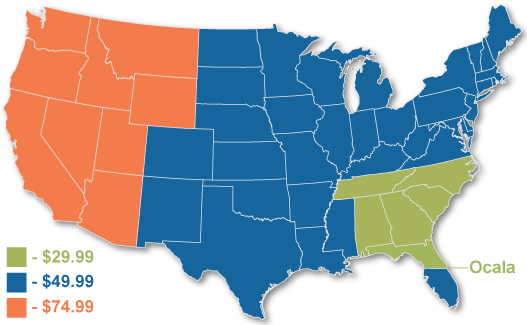 Delivery Area:
To provide premium services at this time shipping is available to the following states in the Southeast United States:
Alabama, Florida (selected locations north of Ocala) Georgia, North Carolina, South Carolina, and Tennessee.
All fish are shipped UPS Next Day Air 10:30am delivery if applicable,  from Atlanta, GA  (Southeast includes: Alabama, Florida,Georgia, North Carolina, South Carolina, and Tennessee.) Shipping rate is $39.00  For South Florida residents and all states outside the southeast expect to pay $65.00 for (1) 16x16x11 cooler box ; all other states outside our service area, (West Coast ) please click here to verify your shipping quote, if your order requires added shipping boxes we will notify you for any additional cost. We can ship outside the Southeast.   We recommend that someone be available upon delivery of aquatic life to limit or avoid exposure to elements. We do not ship to PO Boxes.  If you are not sure that you can receive overnight delivery service in your area please call 1-800-742-5877.  Our shipping zip code is 30076.
Care and Packaging:
Our primary concern is the health and safety of your fish.  To achieve this standard, we professionally package all aquatic life in the best materials at no additional cost and use the most direct and reliable shipping method.
Fish come from distributors who have already acclimated the fish to aquarium conditions after arrival from around the world.  Fish are then hand-picked and prepared for shipment to you.  Fish are packaged in properly conditioned saltwater with correct pH levels in heavy duty poly bags to cushion and protect.  Each bag is filled with oxygen for optimal conditions and secured by a professional bag sealing technology.  The water and airtight bags are then housed in Styrofoam coolers along with a heat or ice pack, as seasonal conditions dictate.  We then package the cooler into a UPS-approved cardboard box and ship to you with overnight services from Atlanta, GA  We minimize time in transit and climate impact.  Boxes are labeled:  "Live Fish" and "This Side Up".  Each box contains a MarineFishEZ Acclimation Guide.

Order Processing Time Guidelines:
We do our best to ship your order as soon as possible. Since we are working with live products, there are times when shipments must be rescheduled; all orders are subject to reschedule. If we encounter a dilemma with your order, we will contact you as soon as possible and work to a resolution. Our main concern is the health of the aquaria life and ensuring healthy specimens arrive in the best condition. To check the status of your order,
please sign in to your account Log in .
Shipping:
All orders are identified with an order number.  An email will be sent to you on creation of your order and again once it has been shipped with your tracking information.  Your items will be shipped within 7 to 21 business days of placing your order (Please allow quarantine time for new livestock in our facility) you will receive your order on Wednesday or Friday for regular UPS Next Day Air  unless stated otherwise.   If you have specific shipping instructions or needs, please complete the "Notes" section in My Tank during checkout, or contact us, otherwise live Marine orders are shipped on next day delivery and your package will usually arrive in the afternoon.  
If you elect for Saturday delivery there is a optional check box at the check-out and a
$35.00
charge for this service with the delivery arriving around
12:00pm
.  
Please note that all food and supplies ship ground service separate from live Marine life unless otherwise stated.
EZ Hand Delivery in Atlanta:
If you live in the following Metro-Atlanta areas, you have the option of our local delivery services at (No Charge) per trip.  Service areas include:  Alpharetta, Milton, Dunwoody, Johns Creek, Roswell, and Sandy Springs. Don't worry even if you live outside those areas we can still meet you out to hand deliver your marine life. If you need assistance we will test your aquarium water and acclimate your new marine life at a minimum rate charge of $50 per hour (usually 3 or 4 fish can be done within an hour.) If you wish to have your fish, food or supplies hand delivered please contact us for scheduling your delivery by Clicking Here  or call us at 770-587-22EZ (39) Monday-Friday 10am-6pm Saturday and Sunday 12-5pm EST. Please note there is a minimum order for Free EZ Hand delivery of $100.00
Tracking Your Order:
To track your order simply click on the tracking number link provided in the shipping email from UPS to locate your package.
Delivery Rates:
Rates listed are for the fee we charge for delivering your order.  There are no additional or hidden costs for packaging on most standard orders; in rare occasions extra-large or additional shipping boxes will need to be used. We will contact you before your order is sent to discuss any additional shipping charges that may result.
Standard shipping rate in our service area for up to 1) 16x16x11 shipping container "as mentioned above" pricing varies with location, please Click Here to view view pricing tiers. Minimum purchases of $100 per order are required. (For all eligible free shipping orders over the amount of $225.00 please refer to our service area in the southeast only.)  Shipping credit will apply if applicable.
Tax is only applied to purchases for Georgia residents, there is no tax on shipping fees if you are a resident outside of Georgia, no tax will apply to your purchase.  Only one promotional coupon code is accepted per order.
For all coupon codes used at checkout (Discounts are on livestock purchased and standard calculated shipping rate, any additional shipping calculations are sent on supplemental invoice and are not discounted with coupon codes.)
Delivery Area:
All fish are shipped UPS overnight from Atlanta, GA within the Southeast only.  (Southeast includes: Alabama, Florida (locations in Gainesville and Ocala and further North, including the panhandle), Georgia, North Carolina, South Carolina, and Tennessee.) for shipping outside our listed zone, please contact us for a shipping quote. We recommend that someone be available upon delivery of aquatic life to limit or avoid exposure to elements.
Returns:
We do not accept returns of food or supplies, unless they contain defects.  If you have a defective product, please complete and submit a Refund Form located at the bottom of the Home page.  Supply items must be sent back to MarineFishEZ at the shipper's cost.  Once we receive your package and Refund Form, we will process your return and credit your account.   Please allow up to 2 business days for processing and up to two billing cycles of your credit card, depending upon the bank.  Unfortunately, we cannot accept returns of aquatic life due to the nature of our strict packaging requirements (see Care and Packaging ).  Please select carefully and contact us if you have any questions prior to submitting your order.
Payment Options:
We accept the following forms of payment: 
Please note: if you are paying with a Paypal account please email or call us and we will email you a Paypal invoice manually.
Stock Availability:
If an item is noted as "Out-of-Stock", click on the item to open the details page and click the link to input your email address to receive notification of when the item becomes available. If you order an item that subsequently becomes out-of-stock, we will contact you and you will have the option to 1) wait until the item becomes available, 2) apply your order amount as a credit to a different purchase, or 3) request a refund.  For Option 1) all promotions offered from our site during an "out-of-stock" will be honored when the item returns to "in-stock" status.
14 Day Live Guarantee:
If your fish does not stay alive within 14 days from day of shipment or delivery, we will provide a MarineFishEZ credit. Received shipping boxes must be opened at location where marine life is to be acclimated and introduced into the aquarium within the 3 hours of delivery (as posted by UPS) ; once the shipping boxes are opened heating/cooling components are released compromising the marine life. To process this guarantee, please provide a digital picture of the item on the order and order number.  Guarantee requests cannot be processed without the picture.  Please consult our Compatibility Guide , as animals showing signs of physical abuse from harassment of others will not be covered under the guarantee or if proper drip Acclimation was not performed on arrival. Fish and invertebrates that jump out of open aquariums, swim violently against aquarium glass or plexiglass to become disoriented to impair swimming, are missing, exit through plumbing such as drains and overflows, misuse of medication, toxins (including elevated or abnormal levels of nitrite, nitrate or ammonia) New systems (6 months and newer)  that have not completed full nitrogen cycles, electrical/mechanical equipment failure such as pumps and heaters are not covered under our guarantee. Care level fish labeled (Expert) will not be covered under 14 day Live Guarantee. (Expert) category marine life will be guaranteed to arrive alive only. For any additional information or concerns please visit our FAQ section before contacting us.  ( All EZ Hand delivered live orders are guaranteed for 4 days after delivery is made) please see details of live guarantee by Clicking here,  fish marked ( Expert) are only guaranteed to arrive alive.

Terms and Conditions:
Please do not dispose of the deceased item(s) prior to receiving a MarineFishEZ 14 Day Live Guarantee Authorization.  The Guarantee will be void without proper authorization.
If an item is dead on arrival, we must be notified

within 3 hours of 

delivery 

(as posted by UPS). Packages containing Live Marine Life left at front door for 3 hours or more  (as posted by UPS) are not eligible for 14 Day Live Guarantee. For items dead after arrival we must be notified within 14 calendar days of shipment date.
Guarantee covers the cost of the live item only and does not refund original shipping charges.
To apply for our guarantee, please fully complete and submit the Refund Form located at the bottom of our Homepage.  We will respond back to you within 24 Hours to either issue a Guarantee Authorization or contact you with any questions.  Once you have received a Guarantee Authorization, no further action is required by you.
Order cancellations:
You may cancel your order, provided we have not yet processed it for shipping ( processed for shipping includes holding fish after it is ordered or picked up from our supplier (14 days maximum fish hold time) for local delivery or out of state sale.)  You will receive a refund for eligible canceled orders, less a 50% restocking fee.  Order cancellation requests must be sent by email.  We will respond promptly to let you know where we are in the process and if the order is eligible for cancelation.